Stars are honoring the graduating class of 2020!
Amid the Coronavirus pandemic, celebs are teaming up to celebrate students with virtual ceremonies. Miley Cyrus, Oprah Winfrey, Cardi B and more stars are all set to honor graduates this weekend with performances, speeches and more.
On Friday, Cyrus, Winfrey and Cardi will be joined by Jennifer Garner, Lil Nas X, Simone Biles, Awkwafina, and Matthew McConaughey during Facebook and Instagram's graduation celebration, titled #Graduation2020: Facebook and Instagram Celebrate the Class of 2020. Mindy Kaling and BJ Novak kicked off the celebration with a sweet intro.
Ahead of the celebration, Cardi sent a message to students, congratulating them on this special moment.
"I just wanna say congrats to all my high school and to all my college graduates. Congrats, congrats, congrats!" Cardi told students in a video message, posted to social media. "Don't let no coronavirus or nothing take this special moment from you."
Also on Friday, Eva Longoria and the Jonas Brothers joined Her Campus to celebrate graduates.
Let's take a look at all of the stars honoring the class of 2020!
Facebook
Kristen Bell
"It's not the moments of achievement or recognition that stick with you, it's the getting there that you remember," The Good Place star shared with graduating seniors.
Facebook
Cardi B
"It's more than a diploma, it's more than graduation, it's knowledge, it's knowing that you did it," the rapper shared in Facebook's #Graduation2020. "Now you're about to start your life, you're about to make some money, you're about to show your skills on what you worked for!"
Facebook
Queer Eye Cast
It's time for the Fab 5 to give a High 5 to the graduating class of 2020.
Facebook
Simone Biles
"We know how hard you worked to bring home that diploma," the Olympic athlete shared during #Graduation2020. "I know you're missing what is supposed to be your medal ceremony, but that ceremony doesn't change a thing. You've already won."
Facebook
Hugh Jackman
"Listen to Oprah," the actor joked before the talk-show legend delivered a memorable speech during Facebook and Instagram's #Graduation2020 ceremony.
Facebook
Oprah Winfrey
"You are indeed, the chosen class, for such a time as this, the Class of 2020. You're also a united class, the pandemic class, that has the entire world striving to graduate with you," the talk-show host shared. "But even though there may not be pomp because of our circumstances, never has a graduating class been called to step into the future with more purpose, vision, passion and energy and hope.
Facebook
Selena Gomez
"I want to say it's ok not to know what to do with the rest of your life," the "Come and Get It" singer shared with seniors. "It's a journey to find your direction or your passions, so don't get frustrated by the mistakes and setbacks as they happen to all of us."
Facebook
Luke Bryan
The American Idol judge and country music singer shows his support for the Class of 2020.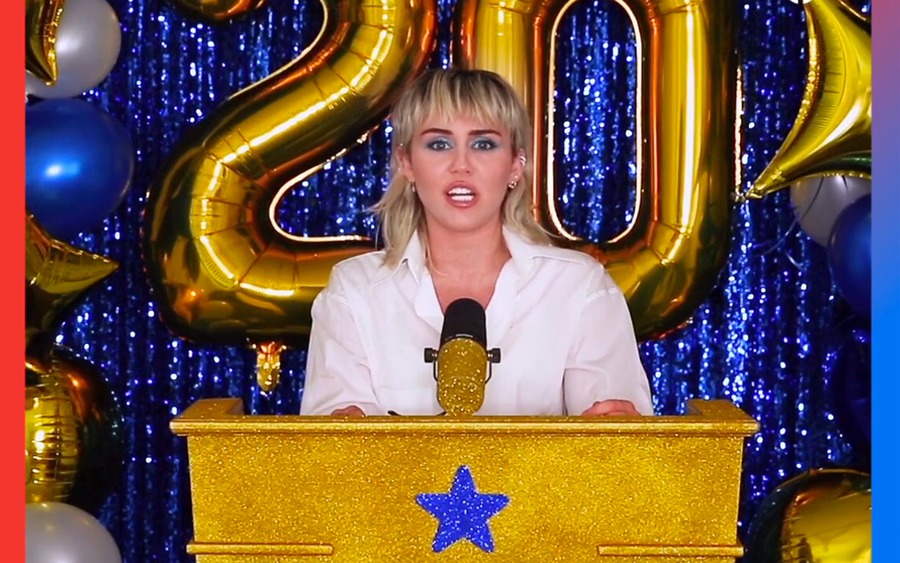 Facebook
Miley Cyrus
The star stepped up to the podium to sing "The Climb."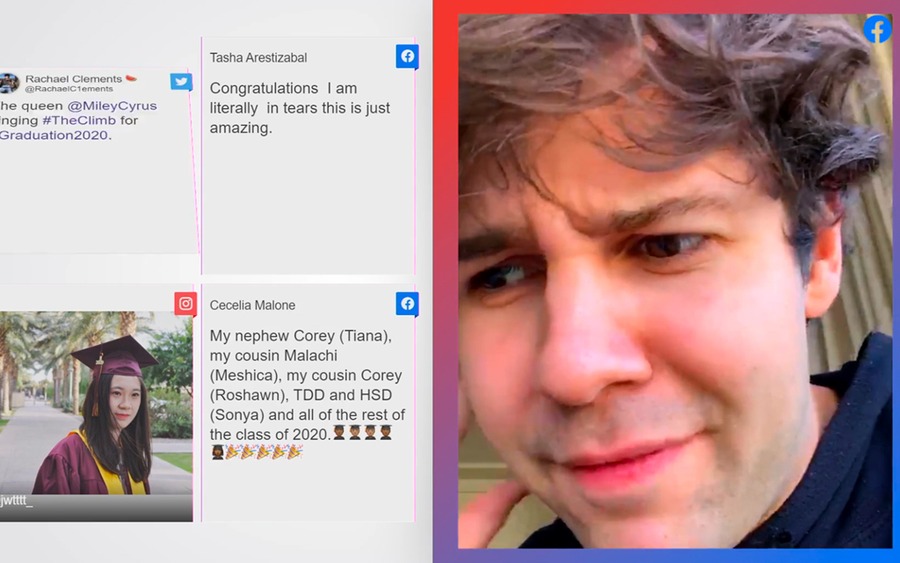 Facebook
David Dobrik
As the YouTuber points out, it's okay to not go to college, because he didn't either!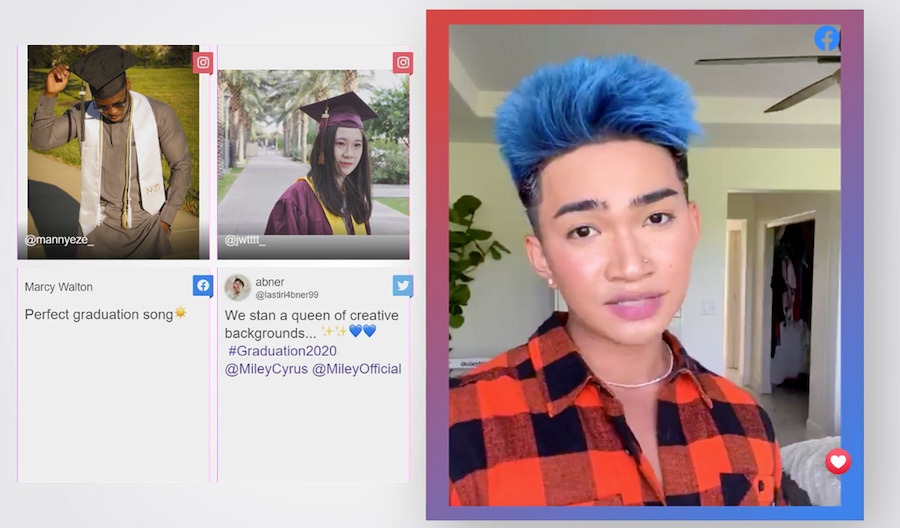 Facebook
Bretman Rock
The beauty vlogger sends love from the state of Hawaii.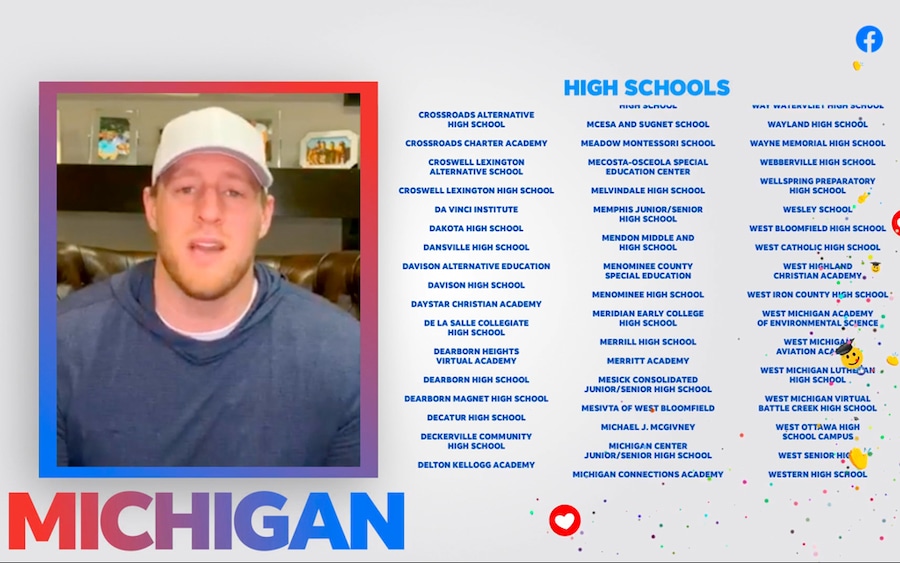 Facebook
JJ Watt
The athlete sends well wishes to all graduates.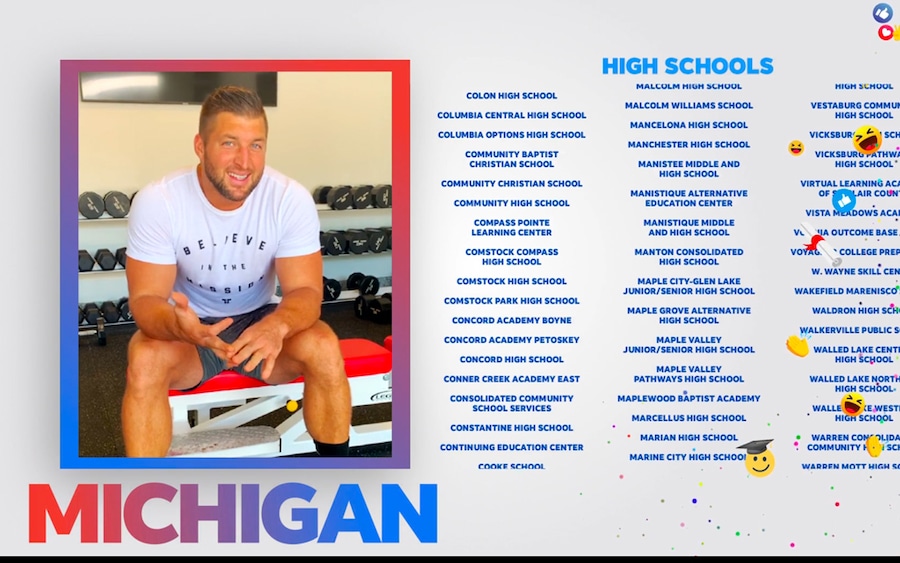 Facebook
Tim Tebow
The footballer sends a message of hope from his home gym.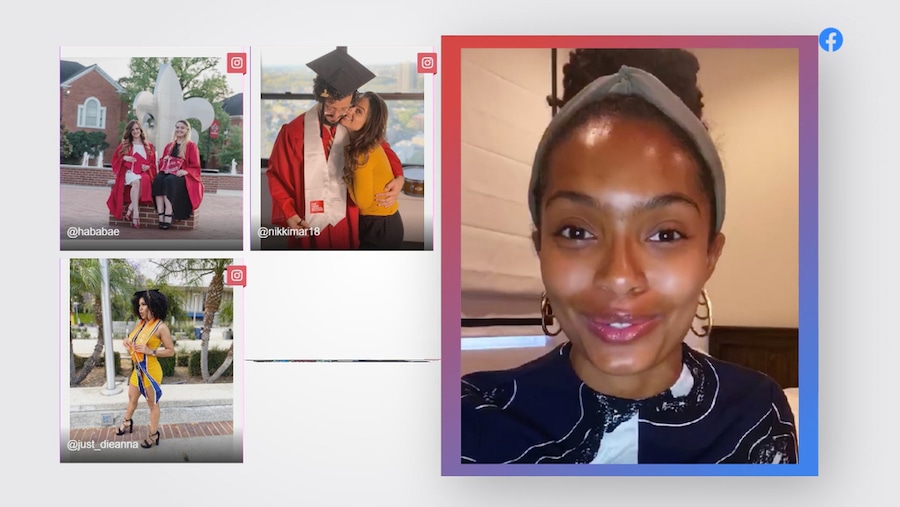 Facebook
Yara Shahidi
As a Harvard attendee, the Grown-ish actor wishes her classmates good luck.
Derrek Harris
Jerry Harris
Who's ready for some mat talk?! The Cheer star participates in American Eagle's first-ever virtual prom called the #AExMEProm.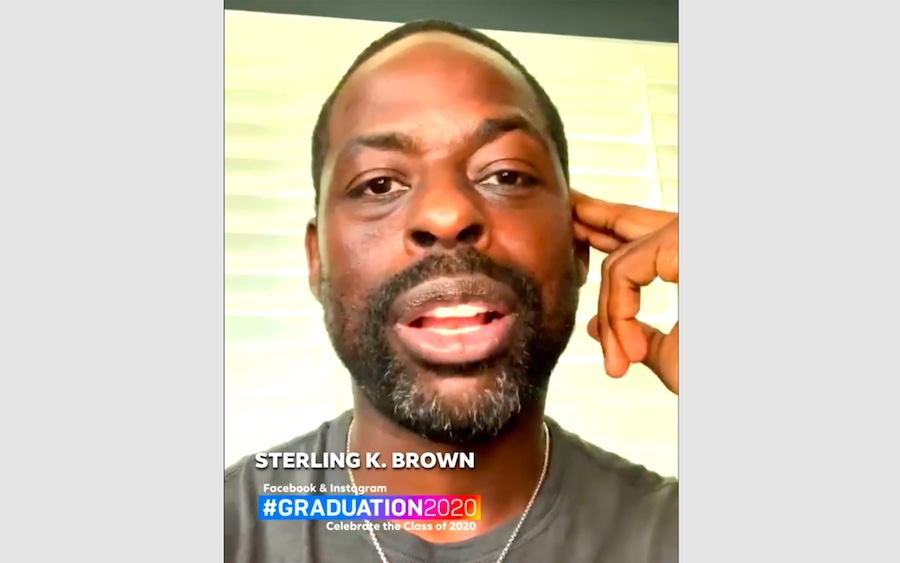 Facebook
Sterling K. Brown
The This Is Us star shares a message of hope to all the graduates of the Class of 2020.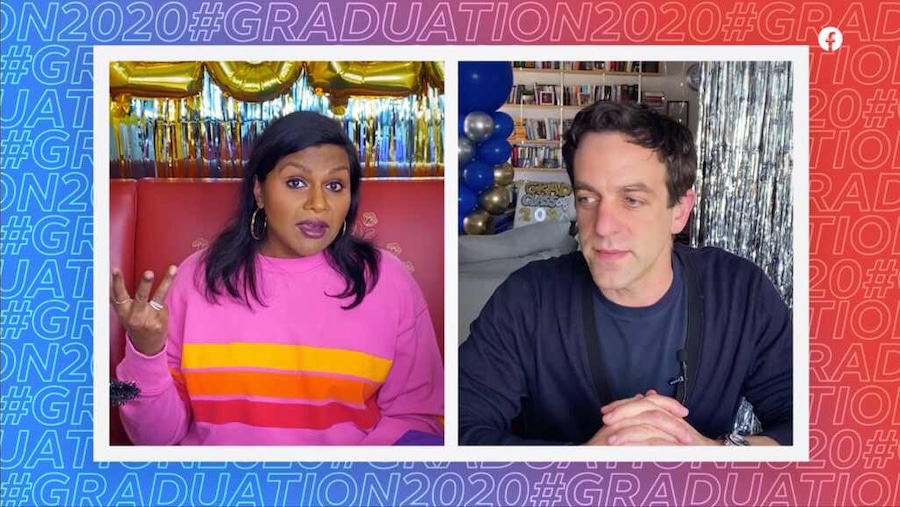 Facebook
Mindy Kaling & BJ Novak
The former Office stars and BFFs kicked off Facebook and Instagram's graduation celebration with a sweet intro.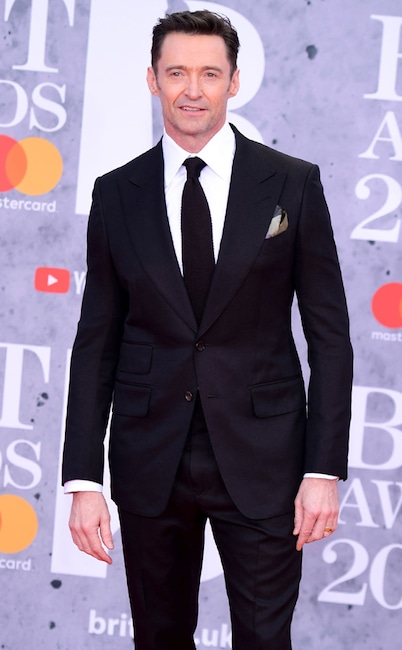 Ian West/PA Wire
Hugh Jackman
The actor told students during the Facebook and Instagram celebration, "Listen to Oprah, trust me on that one." He also added, "Wear sunscreen."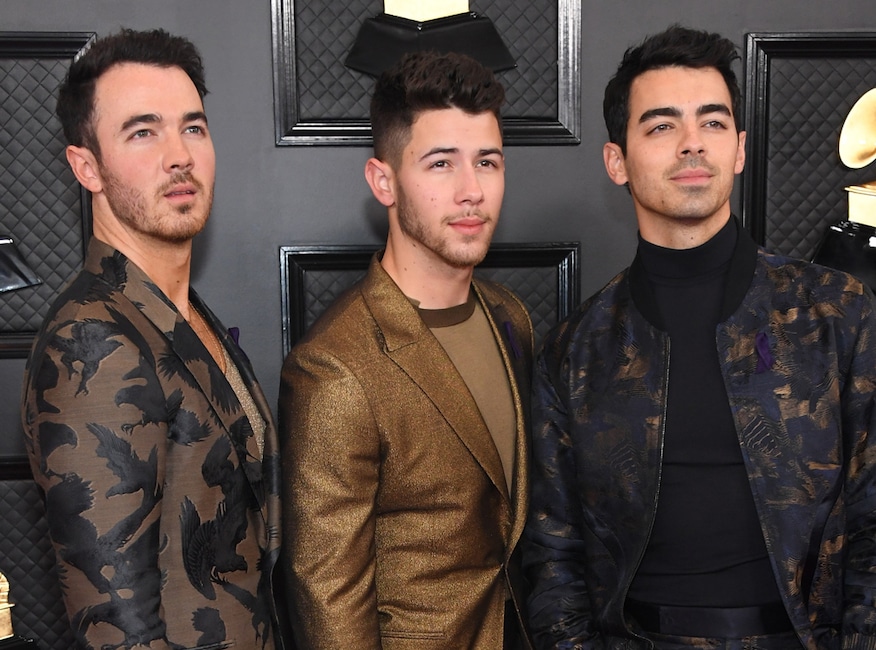 Phil McCarten/CBS
Jonas Brothers & Sophie Turner
"We don't have college degrees so we're really impressed with you!" Turner joked with graduates.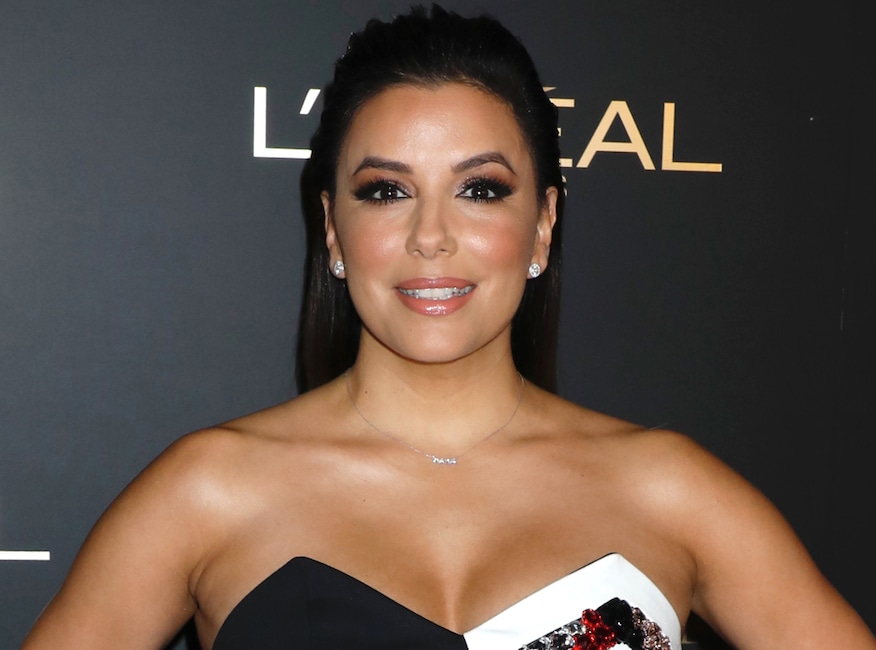 Gregory Pace/REX/Shutterstock
Eva Longoria
Longoria told graduates to "stay true to your most authentic self," as she shared an inspiring story from her childhood.
Congratulations to the class of 2020!