Hair today, gone tomorrow.
Another week of social distancing at-home means another week of celebrity making major hair changes, including giving their significant other a matching haircut. Well, that is if you're Miley Cyrus!
In addition to Cody Simpson's new 'do, Khloe Kardashian made headlines when she showed off her major hair transformation, debuting darker tresses, and a reality star unveiled her natural look sans her signature extensions.
Plus, a wellness expert is opening up about her 50-pound weight loss journey after giving birth, and Chrissy Teigen made a major reveal on Instagram about a surgery she's about to undergo.
And Jason Derulo once again is proving he's one of Hollywood's best follows on TikTok, taking yet another one of the social media platform's viral challenges to the next level, turning into a Marvel superhero. (Seriously, we're wondering if he went to a certain Avenger's house to snag the suit, that's how good his transformation was.)
Check out the most surprising celebrity transformations of the week…
Ilya S. Savenok/Getty Images for Saks Fifth Avenue
Daphne Oz
The health and wellness expert revealed that she has lost 50 pounds nine months after welcoming her daughter Giovanna "Gigi" Ines in an Instagram post showing off her postpartum transformation.
"I still have a way to go, but my aim to feel strong in my skin, energetic for my kids, and to love the way my clothes fit have been my guide," Oz, who is a WW ambassador, wrote, "I've had these goals in the back of my mind throughout the upheaval and stress of the past few months, because historically for me it would have been such an easy way to slip back into old emotional eating habits."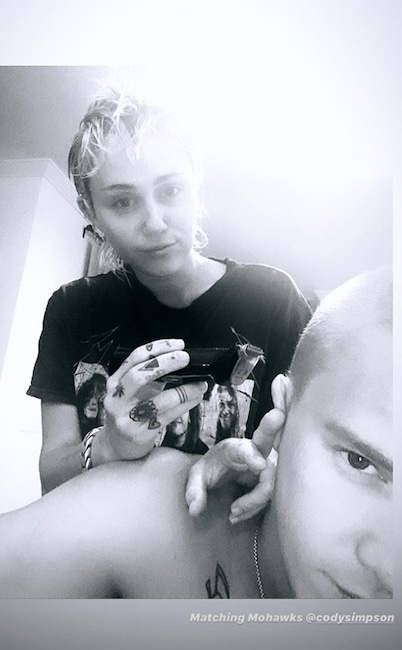 Instagram
Miley Cyrus and Cody Simpson
The couple that mohawks together stays together!
The "Mother's Daughter" singer gave her Australian beau a matching hairstyle, posting a photo of the couple on Instagram with the caption, "Matching mohawks."
Just last week Miley shared a photo of her latest hairstyle, a pixie mullet that her mom Tish Cyrus gave her with a little virtual help from celeb hair guru Sally Hershberger.
TikTok/Jason Derulo
Jason Derulo
Another day, another viral TikTok from the singer, who transformed into Spider-Man in his latest video on the platform.
As part of the "Wipe It Down" challenge, Derulo turned into the famous web-slinging superhero, showing off his dance moves while donning the famous red and blue suit.
MediaPunch/Shutterstock
Chrissy Teigen
On Instagram, the TV personality and cookbook author revealed she had gotten tested for coronavirus ahead of a surgery, documenting the process and later revealing what surgery she was undergoing.
"So I posted myself getting a covid test on the twitter, as I'm getting surgery soon," she wrote. "A lot of people are understandably curious (and nosey!) so I'll just say it here: I'm getting my boobs out! They've been great to me for many years but I'm just over it."
In March, Teigen jokingly celebrated her breast implants' 10th anniversary in a throwback Instagram post, just after opening up about regretting her decision to get them when she was 20 in an interview with Glamour UK and expressed her desire to have them removed. "If I could do one thing, it would be to have a lift," she said.
Instagram
Khloe Kardashian
Bronde is the new blonde.
The Keeping Up With the Kardashians star showed off latest hair transformation and it was a major switch-up from her usual platinum tresses.
"location: under bitches skin," the Good American designer cheekily captioned a series of selfies on Instagram showing off her café brown 'do brightened with blonde highlights.
Khloe's darker tresses were a hit with fans and friends, with one comment reading, "Bronde has finally returned… We missed you baby." The reality star wrote back, "Amen."
Instagram/Brielle Biermann
Brielle Biermann
Kim Zolciak's daughter showed off her natural hair and skin on Instagram, posting an extensions and make-up free selfie.
"no hair extensions no makeup just chillin," she captioned the pic.
Hours later, the 23-year-old star took to her Instagram Stories to defend accusations that she was lying about weird make-up in the photo, writing in a series of posts, ""Hahahha what the f–k. Why would i [sic] lie about not having makeup on..?..I'm allergic to eyelash extensions so i [sic] don't get them. I literally came from the pool to the spa… if you don't see me with a full face of makeup I'm not wearing any. I literally put a LIL swish of mascara on every day and call it a day. Thankful for good skin to keep y'all thinking it's foundation."
But a few days after showing off her more natural hair, Biermann revealed she had her extensions put back in.